Former Maryland star Keith Booth talks about his NBA rookie season and "The Last Dance"
The team's first round draft choice and a bench player on the 1997-98 Chicago Bulls, Booth has plenty of memories and a few mementos in the shadow of Michael Jordan
Like a lot of us, Keith Booth went back in time while watching the "The Last Dance" on ESPN the past five Sunday nights. 
The former Maryland star had a different perspective than most about the 10-hour documentary that chronicled the legendary Michael Jordan's 12-year career with the Chicago Bulls, with the title itself and a good chunk of the shows focusing on the last of his six NBA championships during the 1997-98 season.
Though never mentioned and barely shown except for a few fleeting clips when he was near Jordan in the team's locker room, on the practice floor, in the huddle during games or celebrating after the Bulls beat the Utah Jazz in Game 6 of the 1998 NBA Finals, Booth was like an extra in a movie. He had no lines.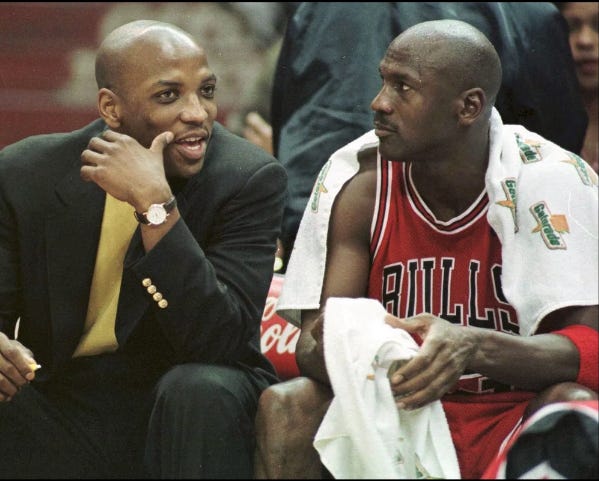 Yet he lived it.
Boy, did he ever.
Not only that, but at the suggestion of Bulls coach Phil Jackson who had deemed the season as "The Last Dance", Booth kept a journal that he still has nearly a quarter-century later. It was Booth's rookie year after being drafted out of Maryland with the final pick of the first round in what turned out to be a short-lived NBA career.
Still, Booth has plenty of memories from a season where, as a little-used reserve who didn't suit get to even to dress for the team's entire playoff run, he got to see first-hand what millions of fans recently watched for the first time in director Jason Hehir's compelling - and at times controversial - documentary.
It showed a lot of the behind-the-scenes drama involving the acrimonious relationships that longtime general manager Jerry Krause had with Jordan, Jackson and Scottie Pippen, as well as the circus-like atmosphere surrounding Dennis Rodman, who had joined the team that season in a trade from San Antonio for center Will Perdue.
"From a rookie's perspective, I thought it was one way going in, pretty much admiring the whole deal, and (after getting there) I'm like, people on the outside got no clue," Booth told me during a 90-minute interview this week. "The team, the coaches, that was great, that was the best in terms of the bond. It was great going to work every day."     
At the time, Booth didn't know what Andrew Thompson, the brother of former NBA No. 1 overall pick Mychal Thompson and  the uncle of future NBA star Klay Thompson, was doing with a film crew that followed Jordan and the Bulls from a preseason trip to Paris and then around the U.S. throughout the season.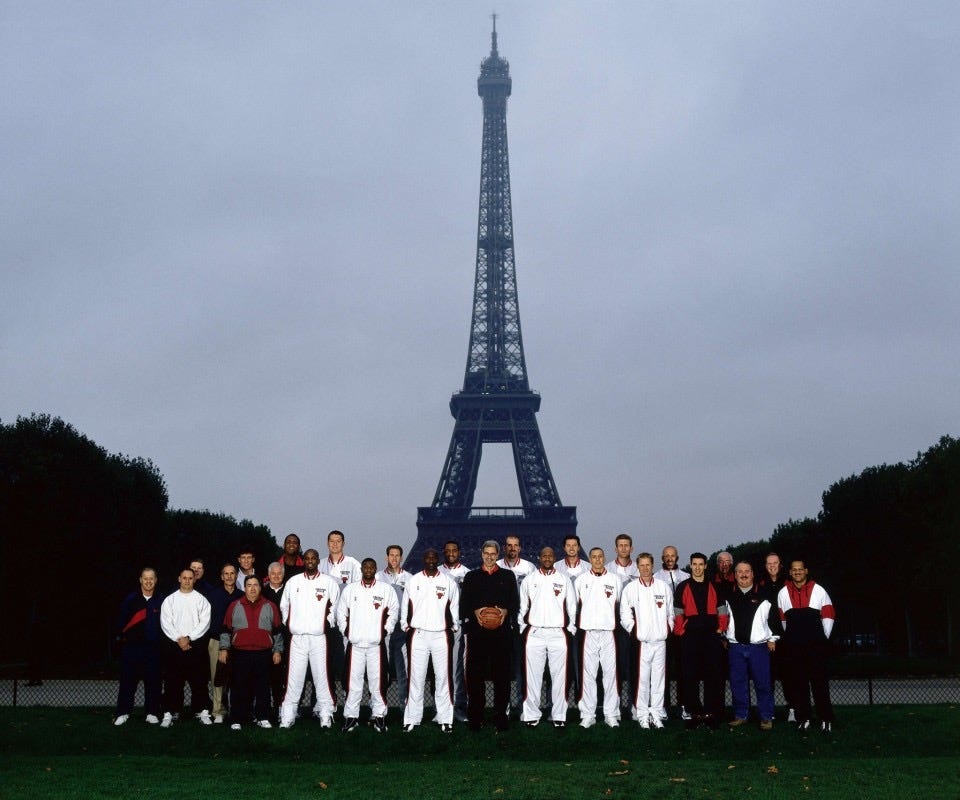 He knew that Thompson was working for the league's entertainment arm, headed then by future commissioner Adam Silver.  
"Andrew was like a part of the team," Booth said. "He was everywhere that we went. It became like second nature. You'd walk in and there were cameras everywhere. It was one of those things right away that made you think you were part of something special."
And something crazy.
Booth said he was a bit naive to the tension that had been building before he arrived, and was ratcheted up a few levels when Krause announced during training camp that Jackson, the coach of the Bulls since 1989, would not be renewed after the season ended "even if he goes 82-0". 
After the team arrived in Seattle for an early-season West Coast road trip, Booth said he saw Krause and Jackson get into a "loud conversation" by one of the team's buses. Jackson told Krause that the bus was for the players and coaches, not for the general manager.
Krause thought otherwise and boarded.
"Pippen came on the bus and went off," Booth recalled. "Pippen's like, 'What the fuck is he doing on this bus?' I'm sitting in the back of the bus, right in front of MJ. Pippen was going off, then he's walking to the back of the bus calling (Krause) 'Crumbs' and all that.
"I'm looking wide-eyed like what the hell is going on?' MJ reached over the seat and was like, 'Goddamn everybody, 'Look at Booth, the shit he walked into.' All that went on and nobody [outside the team] had no idea. It never got to the media. It never got out."
Booth believes that Krause had never forgiven Pippen for refusing to enter a crucial 1994 playoff game in the final 1:18 against the New York Knicks. With Jordan in retirement and playing minor league baseball, Jackson designed a last-second shot for Toni Kukoc, the young European star Krause had drafted in the second round in 1990 brought over after the 1992 Olympic Games.
Kukoc, who had hit a couple of game-winners that season, made the shot as Pippen stewed in silence on the bench.
"Knowing Krause the way I got to know him, Krause never forgot that," Booth said. "He loved Toni Kukoc. ...When I watched it, Jerry comes across in the documentary as a villain - don't get me wrong, he did some things that year that as a team pulled everyone together, it was a kind of an us versus (him} kind of thing."
Booth said that the perception from some interviewed in the documentary of Jordan being a bully was untrue. He pushed certain guys harder than others, including Scott Burrell, in order "to get the best out of them." Booth said he took a similar tact himself at Maryland as he grew into the team leader as a junior and senior.
"There were times when I had to be that guy with the younger guys," Booth said.         
Booth said he had a good relationship with Krause, going back to the spring before his senior year in College Park, when he received a letter from the Bulls general manager saying that he was on the team's radar.
When they met in person for the first time during the NBA combine after Booth's senior year, Booth said he was shocked at how much Krause knew about him, dating back to his high school days as the star at Dunbar.
Krause said that he talked to a woman who lived across from Booth in East Baltimore whom Booth only knew as "Miss Mary" and described as the unofficial "neighborhood watch" and someone who took an interest in him growing up.  
"He sat in her living room and asked her questions about me," Booth recalled. "I was like, 'How do you know Miss Mary?  He knew somebody that knew her. He met with Charlotte Brown, who was the principal at Dunbar High School. I always respected that about Jerry Krause."
Krause, who died in 2017, also told Booth that he had been to "five or six" of Booth's high school games, and had memories of one in particular.
It was a semifinal playoff game against Southern High when Booth was a junior. Booth said he got into "a little scuffle" with Kevin Simpson, a friend of his from the local rec leagues and AAU circuit. Booth said he "mushed him in the face with the ball" and was ejected, thus suspending him for the title game.
"Jerry thought it was a BS call, but he liked the way I handled it and the way I sat on the bench in the next game as well," Booth said.  "He also brought up that I 'played out of position - you used to run the point in high school and played power forward at Maryland - and you never  complained one bit.'"   
Despite being a third-team All-American during his senior year, Booth was mentioned in mock drafts to be no better than a late second-round choice who might even go undrafted. Booth said that he got a different feeling after workouts in Houston and Chicago.
"When I left Houston, the general manager and Rudy Tomjanovich, the coach, took me in the office and said, 'If you're still there at 24, it's going to be hard to pass you up," Booth recalled. "I dominated those guys in Houston and the workout in Chicago was pretty much with the same guys….I dominated the workout in Chicago too."
Shortly after hearing NBA commissioner David Stern announce his name, Booth got a congratulatory call from Krause, who said he would follow up with another call the following morning.
"He said, 'I don't know if your agent told you, but we drafted you with hopes that you'd go overseas for the first year and then come back after that'," Booth recalled of the second conversation. "I went from Cloud 9 to 'Geez, overseas?' He said the reason was Phil Jackson won't play rookies." 
Krause told him that the decision was up to Booth and his agent, David Falk. Since the money overseas wasn't guaranteed, Booth opted to take his chances in Chicago. In retrospect, Booth said it probably would have been better in terms of his career to play overseas in order to develop more of a perimeter game.
"Looking back in hindsight, knowing what I know now, it was probably a good idea," Booth said. "But who's going to pass up this opportunity [to play for the Bulls]?"
One of the rumors circulating at the time was that the Bulls drafted Booth to help Krause in his negotiations with Falk, whose client list was topped by Jordan and also included stars such as Patrick Ewing. Falk was in the midst of working out a new contract for Jordan with the reported figure being somewhere between $33 million and $36 million a year.  
"He told Jerry, 'If you take Booth at 28, we'll take a couple of million less for Michael'," Booth said of Falk. "That's the power of having a good agent."     
Booth said that the Bulls made him feel comfortable from the moment he worked out for the team even before being drafted. 
Booth recalled going into the training room before a private workout for Krause and Jackson began. The first person he saw was Steve Kerr, who had hit the 3-pointer that clinched the Game 6 win in the 1997 NBA Finals over the Jazz to give the Bulls their fifth title in seven years and would put them in position for a second three-peat with Jordan.
"Here he is, drenched in sweat, he's in the gym weeks after hitting that shot and winning the championship," Booth said. "He looked up and spoke to me before I spoke to him. He said, 'What's up Keith?' I looked around. I had no idea he knew who I was. He said, 'Great season at Maryland.'"
After being drafted, Booth played well in summer league in Utah, averaging 12 points and six rebounds a game. He went to training camp thinking he had a chance to crack Jackson's rotation, especially since Pippen was out after undergoing foot surgery right before training camp. Pippen did it as a way to show his unhappiness with a contract that paled in comparison with Jordan and some of the league's other stars. 
Jackson made sure the confident rookie from Maryland knew exactly where he stood shortly after training camp began.  
"Phil brought me in the office, and he told me, 'When we drafted you we were expecting you to go overseas, but since you're here, you're going to be a part of it,'" Booth said. "He said, 'It's going to be hard for you to see the floor.' This is the second day of training camp and I'm thinking I'm going to prove him wrong." 
It was then that Jackson suggested Booth write a journal as a way to vent. Along with the weekly individual meetings Jackson held with each player "to talk about life", Booth got a glimpse of what his future would be like. At the invitation of Bill Cartwright, a longtime NBA player who was one of Jackson's assistants, Booth began sitting in on coaches' meetings after practices and before games.
Not that Booth was always content with his role as a practice player.
"'Don't get me wrong, I was frustrated at times, you start questioning yourself," he said.
At one point after the Bulls started the season slowly in Pippen's absence, Booth said that Jordan took up his cause, saying to Jackson at practice one day, "Why don't you fucking play Booth? Give Booth a fucking chance.' Phil looked at him and then looked at me and just rolled his eyes."
In the locker room after practice that day, Jordan pulled Booth aside.
"'Damn, Booth, I tried to vouch for you, it doesn't look like it's going to happen,'"' Jordan said as he laughed, according to Booth.    
Booth also developed a strong relationship with Pippen after he returned to the court.
According to Booth, Pippen initially ignored a rookie he didn't really know, but his attitude changed after "he picked up on the respect that I had earned from MJ and Rodman and all those guys." It grew even more after a practice floor flareup between Booth and Pippen.
"We went at it one day and after practice was over, he pulled me aside and gave me these little pointers...and from there we had one of the strongest relationships of anyone on the team. He kind of looked at me as one of the guys who was going to be there after he left or after the team broke up," Booth said. "I developed a trust with those guys."
 Some of  Booth's most indelible memories from that season center around Rodman. One involved an incident that was highlighted in the documentary. Rodman left the team for a few days between playoff series to be part of a televised wrestling show in Las Vegas featuring Hulk Hogan.
  "Before Scottie came back (from his injury), Dennis held us together. He was dominating," Booth said. "When Scottie got back, Dennis was tired. He told Phil, 'I need some time off.' Phil said 'You've got to talk with Michael.' Phil said he wanted to go for 48 hours to Vegas. Michael said to Phil, 'He's not going for 48 hours.' Sure enough, Dennis didn't show up for four or five days."
  The day he eventually rejoined the team, Jackson had to send Jordan and an assistant trainer over to a house that Rodman shared with Carmen Electra. It was across from the practice facility. They were still in bed after having returned early that morning from Las Vegas.
According to Booth, Rodman walked into practice wearing pajamas and flip-flops.
  "We were crying laughing," Booth said. "You could walk into the huddle and you could just smell the alcohol reeking [from Rodman's body]. Phil was just looking at him. MJ said, 'Don't kill him Phil, he's here, we got him.' When that man came to work, he came to work. That man worked. That was part of the circus. The team got a kick out of it, like 'this dude is unbelievable.'"
    As things turned out, Booth was only one of four players who returned to the Bulls the year after their last title. Jackson had been replaced by Tim Floyd. Jordan had retired before resurfacing a few years later in Washington. Pippen and Kerr were traded. Rodman was released. 
"The older guys didn't respect Tim Floyd like they respected Phil," Booth said." You could sense the frustration Tim was feeling. I was part of the old regime in his mind."
After appearing in 39 games of the lockout shortened 1998-99 season, making four starts and averaging a little over three points and two rebounds in 11 minutes a game, Booth was cut at the end of training camp going into the 1999-2000 season. Booth returned to Baltimore and played briefly for a local semipro team before retiring.
He was not yet 25. With the league's emphasis trending toward 3-point shooting, Booth's future as an undersized power forward whose offensive game revolved around scoring inside and getting to the foul line didn't attract any offers from NBA teams. He finished out the final year of his three-year $1.8 million contract contemplating his future. 
"After that, it was like, overseas, what do you do?," Booth said, recalling his thinking. "I never wanted to be that guy like a lot of friends growing up who wanted to play in the NBA and chase that dream (overseas). You hear all the horror stories overseas. To be honest, I kind of lost that love for it."
  Around the time Maryland went to back-to-back national championships that culminated with the Terps winning a national title in 2002, I tried reaching Booth for a couple of stories for the Baltimore Sun. He never returned my calls and many, myself included, were concerned that he was struggling with his post-basketball life.
    Booth said Wednesday that he was simply trying to figure things out. 
 "I didn't have tough times, I didn't go through any depression," he told me. "When I was finished playing, I was okay with that decision. I felt that I reached my full potential...I always felt that there was more that I could bring, I never looked at myself as just a basketball player. "    
   Booth eventually returned to Maryland and finished his last two remaining classes, saying he "got a kick of going back to school and being the older guy. That was one of the best things I did."
   Shortly after he graduated, Booth visited the basketball office to tell his former coach, future Hall of Famer Gary Williams. Unbeknownst to Booth, assistant Jimmy Patsos was leaving to become the head coach at Loyola.
    Booth was hired, staying on the staff through Williams' retirement after the 2010-11 season.
   If there was any resentment for the abrupt end to his NBA career, it was directed at Floyd, the coach of the Bulls when he was cut. That too is gone, after an unexpected meeting with Floyd at a summer basketball camp while Booth was a Maryland assistant.
   Booth was at the camp recruiting fellow Baltimorean Sean Mosley. Floyd, who was fired early in his third season with the Bulls, was the coach at Southern Cal recruiting O.J. Mayo.
  "The coaches are in the lobby area, we're all having a conversation and he had no idea who I was," Booth said with a laugh. "We're talking. He later came over to me - this is when I knew I needed to let it go - he said, 'What's your name again?' "
   Just as Jordan seemed to wonder during the documentary what would have happened had Krause relented and brought back Jackson for the 1998-99 season, and what might have happened had he returned as well, Booth also thinks about how his career might have turned out differently.
  Still in touch with many of his former teammates, including Pippen and Ron Harper, the documentary also raised questions among them.   
    "The big what-if, it brought back those feelings," Booth said.  "You kind of forgot about it. Who knows? I still felt we could have won another championship. A lot of guys do." 
Booth has several mementos from that season. Aside from the championship ring he wears on special occasions, there is the journal he wrote and the contents of which he said, half-kiddingly, "will all be in my book."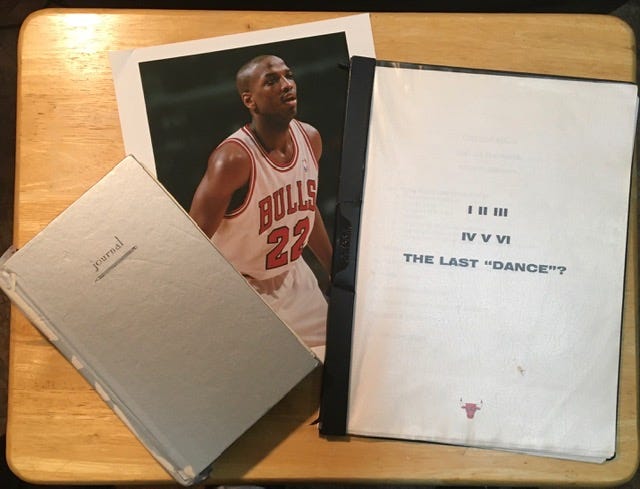 And there is the folder Jackson gave each of the players at training camp.
On its cover are words that resonate with millions now.
The Last "Dance"? it says.